Problem: I don't hear any sound coming from my video
Solution 1: Check the video player controls. Make sure the microphone icon does not have a slash through it. If it does, this means the the recorder was not picking up any audio while you were recording your video. 
Solution 2: Check the volume level on your device to make sure the sound is turned up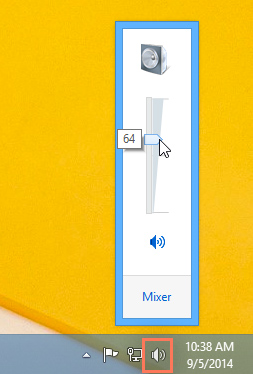 Solution 3: Check the cables. If you're using a desktop computer, make sure the external speakers are plugged in, turned on, and connected to the correct audio port of a USB port. 
Problem: I only want to record sound coming from my computer. 
If you are attempting to record sound that is coming from your computer, such as an audio track, but are hearing background noise from your external settings, this means you need to turn on System Audio. 
You'll do this by selecting the microphone icon >> More Options >> Primary Sound Output Device, as demonstrated below.
Note: System Audio is currently not available for the Mac Recorder. 
Problem: I want to record myself speaking but I'm picking up too much background noise
We generally suggest using a microphone to record your videos to prevent background noise from being picked up in the recording. You can purchase either an external USB microphone or a USB microphone headset.